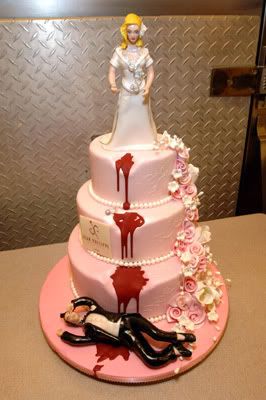 " . . . settling requires the awful ability to lie to yourself, which, in my experience takes a lot of work (and drinking) to pull off."
~
Lisa Gabriele, from her article "Without Ceremony"
I was in the library this morning picking up some books that had come in for me. Behind me in line, I hear a teenage girl say, "This is a travesty!" What teenager uses the word "travesty?" I had to laugh and turned around to ask her what was up. She says, "My teacher will only let us get two books out, but I want to get four. These look so good!" She spots another girl, and asks her what books she's going to check out. It looked like the teacher had dragged her whole public school class to the library, and they were all digging through the stacks for something to read. I also got the feeling it was the first time she'd been to the library, because she asked me where the line was to check out books, etc.
This scene gave me hope for humanity.
Thinking about this teenage girl, and how she's lucky to have a good teacher who encourages her kids to use the library, made me think about how important it is to guide younger people through life. I've given advice countless times to my teenage nephews, and it's a cool feeling when they actually appreciate something new they've learned from you.
On that note, this blog is for young women who are feeling the pressure of the ticking clock to get married or pop out a kid, or both. My advice is do not rush into this!
In April,
The Atlantic
published a horrible article that made a lot of waves
called "Marry Him! The case for settling for Mr. Good Enough."
Basic premise: settle for Mr. Wrong so you can have a kid without too much work. How utterly vomitous. The author writes:
The couples my friend and I saw at the park that summer were enviable but not because they seemed so in love—they were enviable because the husbands played with the kids for 20 minutes so their wives could eat lunch. In practice, my married friends with kids don't spend that much time with their husbands anyway (between work and child care). So if you rarely see your husband—but he's a decent guy who takes out the trash and sets up the baby gear, and he provides a second income that allows you to spend time with your child instead of working 60 hours a week to support a family on your own—how much does it matter whether the guy you marry is The One?

That is
cold.
Like Machiavellian cold.
Countering that stupid point is Lisa Gabriele, a fresh voice of reason, who published on nerve.com a few weeks ago her article (drum roll please) . . . "
Without Ceremony: How I've Managed to Avoid Getting Married for Forty Years
." It's a piece that every young woman should be required to read by senior year of high school.
She writes:
Do I actually love this guy, or is he a prize I have won? Am I marrying him to say I got picked? Because this is what people do? So I won't be pitied or scorned? Am I seriously considering spending the rest of my life with this guy, or do I know in the back of my mind that this will end, but that at least I will have been married?


Don't do it. If you know that the guy is not truly who you want to wake up to when you're eighty, then don't be stupid and walk down the aisle with him. Be brave. Be strong. Hold out for the right one.